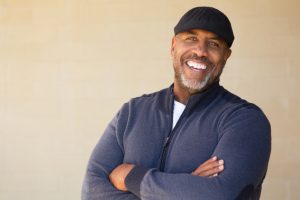 Edentulous (without teeth) patients struggle personally and professionally. Simple daily activities such as eating, speaking, and laughing are suddenly less comfortable and simple than they were before. Many patients we see find themselves nervous about meeting new people, speaking in public, or smiling for family photos. Even denture wearers dread eating in public for fear their prosthetic may shift or come out completely. At 21st Century Dental & Sleep Center, we offer a more stable, comfortable alternative – All-on-Four dental implants.

The All-on-Four Implant Process
Similar to the traditional dental implant process, All-on-Four implant retained dentures are placed in two phases. The first phase is the surgical positioning of titanium implant posts. As the name suggests, we typically place between four and six implant posts on the front portion of the jaw where the bone is naturally denser. The positioning and angle of the implant posts allows them to support a full set of replacement teeth. After a period of healing that may last several weeks or months, the patient returns to have a custom restoration attached to the implant posts. In some cases, patients are able to attach a light weight temporary restoration or even their custom prosthetic on the same day we place the implant posts. Patients who wear a traditional denture may be able to have their existing prosthetic adjusted to fit the implants saving time and money.
Benefits of All-on-Four Implant Dentistry in Irving
Because there are only four implants, All-on-Four is more budget friendly than other full arch tooth replacement options
Additionally, healing time is significantly reduced since there are fewer implant sites, and they are all located in the front portion of the mouth
Patients with diminished bone density receive implants without needing bone grafts or other preparatory procedures, and the stimulation provided by the replacement root structure may aid in the regeneration of jawbone strength
In some cases, patients may actually be able to receive their restorations the same day the implant posts are placed saving more time and money
Contact Your Implant Dentist in Irving
Whether you're fully edentulous or want to replace a single tooth, dental implants are a versatile, permanent option that look as good as they feel. Contact 21st Century Dental & Sleep Center to schedule a dental implant consultation to find out more today.