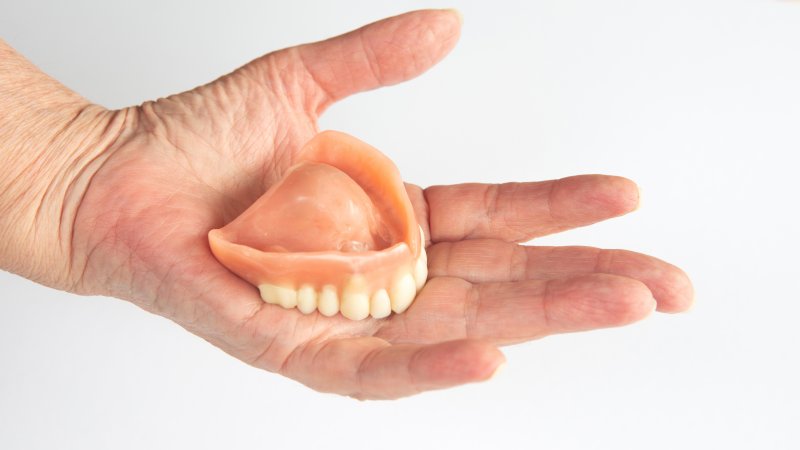 While brushing is still as important as ever even after you get dentures, it's not enough when it comes to keeping your false teeth clean. You'll also have to soak them in a special deep-cleaning solution at least once a day to get rid of all the plaque and food deposits that have built up during the day. While this might seem inconvenient at first, there are 4 reasons why soaking dentures is an essential part of maintenance.
1. Your Dentures are Porous
Most dentures have a base made out of acrylic, which looks rigid but is actually filled with pores. They're incredibly hard to see, but they provide the ideal space for bacteria to hide and grow. Numerous pores means plenty of places where lots of bacteria can become trapped, and if they're not removed on a regular basis, they could eventually attack your mouth and cause gum disease.
Gum disease may not seem like more than an annoyance at first – especially if you no longer have any teeth to worry about – but if it's left unchecked, it could contribute to severe chronic diseases like diabetes, heart disease and rheumatic issues (musculoskeletal diseases). Excellent oral hygiene is essential for avoiding these issues.
2. Getting Older Means More Bacteria
As people age, the amount of bacteria in their mouths tends to rise. This is because bacteria tend to grow and multiply over time, and as you get older your mouth tends to produce less cleansing saliva. (This is especially true for patients taking certain medications.) That makes it extra important to clean your dentures as often as possible.
3. Your Gums Need a Break
Natural teeth are supported by the jawbone, but when you're wearing dentures, that job falls to your gums instead. However, since they're not normally designed for that job, the pressures of chewing and supporting your false teeth will leave them sore by the end of the day. Soaking your dentures isn't just good for the appliance; it's also the ideal opportunity for your gums to rest and recover for the next day!
4. Keep Your Breath Fresh
Overgrown bacteria and food particles that have been trapped in place aren't just bad for your oral health; they're also a major source of bad breath, and simply brushing won't be enough of a freshener. If, however, you clean your dentures as often as is recommended, then you won't have anything to worry about. You can even enjoy foods like garlic and coffee without worrying about the residue of smell being left behind.
If you're noticing bad breath or potential signs of gum disease, make an appointment to talk to your dentist. It could be that you need to make some improvements regarding your denture care.
About the Practice
At 21st Century Dental & Sleep Center, we're committed to providing top quality dentistry to all our patients; that means providing free second opinions and creating a comfortable environment with the latest modern amenities. The dentures, partials and implants we provide let our patients eat and speak normally again while enjoying natural-looking smiles. To schedule an appointment, visit our website or call (972) 255-3712.