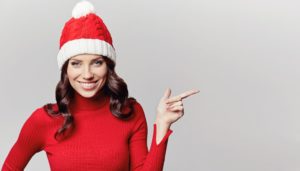 The holidays are right around the corner, which means so are your favorite seasonal dishes and plenty of sweet treats. If you're like many adults, you'll likely indulge during the next few weeks. Besides having to loosen your belt a few notches, some holiday foods can come back to haunt your smile. Don't worry, you can enjoy tasty meals and delicious, but here are 3 foods you'll want to skip.
1. Stuffing
Whether stuffed inside of a turkey or on the side, the amazing blend of bread and herbs is a staple on many tables during the holidays. Unfortunately, you might want to leave it off your plate. Bread contains starches, which are just as bad for your teeth as sugar.
The digestion process doesn't begin when food hits your stomach. Instead, it starts in the mouth. A special enzyme kick-starts digestion by converting starches into sugars, which will create cavity-causing bacteria. Although you may love stuffing, your smile will appreciate some fresh vegetables as an alternative to starches.
2. Candy Canes & Hard Candy
Candy canes and other sweets are everywhere you turn, from grocery store counters to holiday gifts. Resisting your sweet tooth can be difficult, but your dentist recommends skipping the candy canes. Hard candies require sucking on them to dissolve, bathing your teeth in sugar for an extensive time. Eating candy canes too often will weaken the enamel, which can't regenerate. Crunching on hard candies isn't any better because it can lead to a broken or fractured tooth.
The last place you want to spend the holidays is sitting in a dental chair. You can keep tooth decay at bay and avoid a dental emergency by choosing a piece of chocolate. It's easier to remove from the teeth and softer to chew. You'll still want to limit how often you give in to your sugar cravings.
3. Baked Treats
Cookies, cakes, fudge, and many other sugary treats are the highlight of the season. However, they aren't just bad for your waistline. They can also harm your smile. It's nearly impossible to resist pie after turkey or cookies with hot cocoa, but you'll want to eat sweets in moderation.
After you've finished, rinse your mouth with water if you can't get to your toothbrush. You can also chew a piece of sugarless gum to promote saliva production to remove food residue from your teeth.
Maintain a Healthy Holiday Smile
Besides watching what you eat, don't forget to brush after every meal and floss nightly. If it is time for your next cleaning and checkup, don't wait until after the holidays. Schedule an appointment to ensure there aren't any untreated dental problems hiding in your mouth.
About Dr. Kent Smith
Dr. Smith is more than just a general dentist. He also specializes in advanced treatments, like sleep apnea therapy, Invisalign, cosmetic dentistry. He offers state-of-the-art solutions to achieve your best smile. If you need an appointment before the holidays, don't wait. Contact our office today to schedule an appointment.